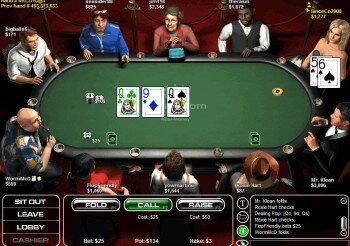 Twelve months after SmackPoint launched a fantasy football conference call service for fantasy football drafts, True Conferencing recently launched its own version. We like these niche application plays in conferencing, even if all it requires is a simple repositioning of a conferencing brand to target an audience. This got us thinking, given the surging popularity of online poker, why not offer a conferencing service called "Poker Conferencing" and target the same young men at the office that the brands above do?
Here's how the service would work: At PokerConferencing.com (Go ahead kids, that domain is available. Grab it!) a group of guys who are friends and trust one another - similar to fantasy football players - would sign up as a group and get a passcode and phone number to have a conference call. At the time of the conference call, five or six participants dial in and are privately connected on a bridge. They then all log on - from different IP addresses - to an online poker site, where they then find a poker room with only one or two players in it, and join in.
If your mind is sharp you see where this is going: Collusion. If your mind is dull swing by our office for a face-to-face poker game. It would be easy for the group to collude via the audio conference call and nefariously play against the other online contestant or two who don't realize there's a conference call going on among a colluding team. After the cards are dealt, the colluding players/friends in the call could bark out to one another their respective hands that are displayed online. The guy in the colluding group with the highest hand stays in, the others fold. After several rounds, the best hands of the colluding group are going to beat out the lone player or two. The colluding friends split evenly the booty.
Let us remind our fellow US citizens that online poker is illegal and a great way to pass the day at the office even if it were legal, doing the above, which is exactly what Wall Street institutional traders do every single day is unethical. But we wonder about what, if any, laws exists for such collusion in countries like Britain, where online gaming is perfectly legal. And do the publicly-traded online gaming companies prohibit - or even mention - teleconferencing collusion in their user-agreements? Wouldn't the mentioning of that poison the trust in the game?
Now that we let that cat out of the bag and we can no longer short the stocks of online poker operators and then publicize this information because BetOnSports got bagged and the other operators' stocks already plummeted and no one will trust online poker anymore and every online gaming company is sending its goons after us, we gotta run.
September 5, 2006